More Related Stories
RRsat Expands Broadcast Distribution for ETTV America Cable TV Network
The Largest Nationwide Cable TV Network in Taiwan to Be Delivered to DISH Network, AT&T, Cablevision, Comcast, and Many Major MSOs With RRsat
May 21, 2014 --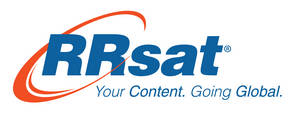 ENGLEWOOD CLIFFS, NJ -- (Marketwired) -- 05/21/14 -- RRsat Global Communications Network Ltd. (NASDAQ: RRST), a leading provider of digital content management and global content distribution services to the broadcasting industry, announced today its expansion of broadcast solutions for ETTV America, the subsidiary of leading Taiwanese cable TV network, Eastern Broadcasting Company (also known as ETTV). The three-year contract is a continuation of the initial solution that began in 2012.
RRsat's initial contract delivers six ETTV channels plus 3 affiliate channels from RRsat's Los Angeles Point-of-Presence (POP) to Dish Network's media hubs in the U.S. via dedicated fiber connectivity. The second phase of the contract began in February 2014 and expands broadcast distribution by adding three additional ETTV channels; delivered from the RRsat Hawley broadcast and teleport facility. Distribution of these channels will be through uplink to the Galaxy 23 satellite to major cable headends including Comcast, AT&T, Cablevision and others.
"We were extremely pleased and impressed with RRsat's ability to provide top notch infrastructure and excellent performance; factors driving our decision to expand their fiber and satellite distribution," said David Chang, ETTV America Distribution Manager. "We look forward to expanding our relationship with RRsat and enjoying the benefits of having the full range of media services under one roof."
RRsat is delivering dozens of channels to DISH, with an existing fiber pipe to DISH hubs in North America. It enables RRsat to provide an efficient delivery solution to DISH from any content provider, or a company that needs flexible content delivery based on its destination. RRsat's extensive teleport services offer a robust global distribution platform while providing customers with significant opportunities to monetize their content.
"RRsat teleports are connected through a robust fiber network that provides the highest quality connectivity for content delivery," Lior Rival, Chief Commercial Officer of RRsat stated. "We offer content owners, such as ETTV, a wide range of solutions to reach DISH Network, or meet their needs for a flexible content delivery based on its destination."
About Eastern Television
ETTV is a multi-faceted media company dedicated to serve the Chinese community worldwide. Operating under EBC (Eastern Broadcasting Co., Ltd.), with its corporate headquarters located in Taipei, Taiwan, ETTV has become the leading brand among all media companies in Taiwan, acting as a public service paradigm of media outlets with its branded cable TV channels. Our goal is to serve the millions of Chinese households in the American region with expanded coverage in the United States, Canada, and South/Central America. For more information, visit www.ettvamerica.com.
About RRsat
RRsat Global Communications Network Ltd. (NASDAQ: RRST) provides global, end-to-end, digital content preparation and management, as well as content distribution services to the rapidly expanding broadcasting industry, covering more than 150 countries. Through its Global Network, composed of satellite, terrestrial fiber optic capacity and the public Internet, RRsat provides high-quality and flexible global content distribution 24 by 7 services to more than 630 channels reaching multiplatform operators, Internet TV and direct-to-home viewers worldwide. In addition, the company offers worldwide content management and distribution services for sports, news and other live events. More than 130 channels use RRsat's advanced production and playout centers, comprising of comprehensive media asset management services. Visit the company's website www.rrsat.com.
Safe Harbor Statement
This press release contains forward looking statements within the meaning of Section 27A of the Securities Act of 1933, as amended, and Section 21E of the Securities Exchange Act of 1934, as amended. These forward-looking statements involve known and unknown risks and uncertainties and are based on current expectations, assumptions, estimates and projections about the companies and the industry as of the date of this press release. We undertake no obligation to update forward-looking statements to reflect subsequent occurring events or circumstances, or to changes in our expectations, except as may be required by law. Forward-looking statements are subject to risks and uncertainties that may cause actual results to differ materially from those contemplated by the forward-looking statements, including the risks indicated in our filings with the Securities and Exchange Commission (SEC). For more details, please refer to our SEC filings and the amendments thereto, including our Annual Report on Form 20-F for the year ended December 31, 2013 and our Current Reports on Form 6-K
Corporate Contact:
Elad Manishviz
CMO
Tel: +1 201 6557245
Email Contact

Ohad Har-Lev
President of RRsat America
Tel: +1 570 2510227
Email Contact

Media Contact:
Radi8 Creative, PR for RRsat
Tel: +1 801 592 5575
Email Contact


Copyright @ Marketwire
Related Keywords:
Canada,USA,Taiwan,Marketwire,Business,Sports,Management Services,Television,Internet Technology,Internet,Sports,Other,
---
Source:Marketwire. All Rights Reserved