More Related Stories
Canadian Music Week Wraps Up Its 32nd Successful Festival & Conference-Announces 2015 Dates as May 5 to 9
May 12, 2014 --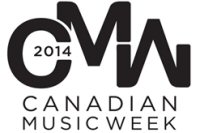 TORONTO, ONTARIO -- (Marketwired) -- 05/12/14 -- On the heels of one of its most successful years yet, Canadian Music Week is pleased to announce its 2015 dates. The festival will return to Toronto for another week of conferences, awards, film, comedy and music from May 5 to 9, 2015.
Canadian Music Week would like to thank all of this year's participants, sponsors, partners, performers, volunteers, speakers, and festival team for their involvement. Venues across Toronto hosted a multitude of artists and speakers, making this year one of CMW's biggest and best yet.
The Digital Media Summit saw tech entrepreneurs such as Gary Vaynerchuk and Chaotic Moon's whurley share their tech insight, and anti-virus pioneer, John McAfee spoke to delegates in a live stream from an undisclosed location somewhere in the Blue Ridge Mountains. The one-day conference was packed with panels and presentations, with opportunities for delegates to network between talks.
The Radio Interactive International Radio Summit is a Canadian Music Week institution, having been an integral part of the annual conference for over 30 years. This year's Summit brought together radio professionals from all sectors of the industry to discuss the present and future of broadcasting and related platforms. Featured speakers included renowned blogger and radio host Alan Cross, Consumer Electronics Association President and CEO Gary Shapiro, and Cumulus Media Chair and CEO Lew Dickey. Panel discussions explored a number of emerging issues relevant to the broadcast industry: technology integration in The Connected Car - Dash to the Future, digital streaming and sales in Audio Wars and Is Streaming the Future of Audio?, and branding challenges in Building Brands in a PPM World.
CMW's three-day Music Summit provided a well of knowledge and inspiration for industry-types, from songwriters to publishers. The summit boasted some memorable interviews with music giants Nile Rodgers, Quincy Jones, and Diane Warren, and Jian Ghomeshi - host of CBC's Q - sat down to talk with Joel Zimmerman of Deadmau5 fame Inaugural awards were presented to music industry legends Martin Mills and Nile Rodgers during the Music Summit. Mills, who founded the Beggar's Group, was recognized with the first CMW Global Impact Award, which was created to celebrate top businesspeople in the international music industry who have had a major impact in Canada. Prolific studio musician, producer and arranger Rodgers received the Global Creator's Award for his widespread influence on the industry as a whole. The prize will be renamed the Nile Rodgers Global Creator's Award in his honour.
The Mentor's Cafe Series allowed delegates to get up close and personal with a wide variety of panel speakers, encouraging direct mentorship and the sharing of ideas.
Canadian and international acts wowed audiences from stages across the city. Performing an intimate free concert to 400 lucky fans, M.I.A. wowed the crowd at Tattoo to kickstart this year's festival, with an unforgettable acapella rendition of "Bad Girls" (see Noisey's review here.) CHUM provided a stellar lineup for its Fanfest event, with big names such as UK pop sensation Ellie Goulding and Canadian indie favourites Tegan and Sara performing. Artists such as Neko Case and The 1975 hosted all-ages shows, ensuring that every music fan in the city could catch some of the action over the week, regardless of their age. Other notable acts included Television, Travi$ Scott, Brody Dalle, City and Colour and OFF!
Canadians weren't the only ones represented at this year's festival. CMW takes pride in welcoming international artists and key industry players from around the world from over 33 countries. A special panel discussion highlighting the world's first inter-city musical alliance - between Toronto and Austin, Texas - also took place during the three-day Music Summit. Mayoral candidate John Tory used CMW's International Marketplace as a platform to announce his plan to turn Toronto into an internationally recognized music city. Tory's vision is based on successful models already established by cities like Austin, Texas and includes the establishment of a stand-alone Music Office and direct communication and feedback from key players in the local music industry.
Canadian Music Week put the spotlight on several countries whose delegates brought some of their countries' most exciting artists to Canadian shores through music showcases and International Marketplace conference events. This year saw artists from Taiwan, Germany and Austria featured at the music festival, with Canadian and International delegates from these territories as well as Switzerland meeting to exchange ideas. Sounds Australia brought their ever-popular Aussie BBQ to the Horseshoe Tavern for an afternoon of tunes from Down Under and hosted several showcases across the city, strengthening relationships between Oz and the Great White North.
SiriusXM presented The Indies once again this year at Kool Haus, with artists such as July Talk and Mounties picking up awards that night between special performances by Little Dragon, Born Ruffians and Hollerado. See full list of winners here: http://indies.ca/
The Canadian Radio Music Awards celebrated notable achievements in radio this year at the Phoenix Concert Hall, with Walk Off the Earth taking home 4 awards and performing a full set for eager fans. See full list of winners here: http://cmw.net/media/press-room/2014-crma-winners/
The Film Fest merged music and the silver screen with an eclectic medley of premieres and sneak-previews for movie fans. Picks such as the Hendrix biopic, Jimi: All Is By My Side and the Swedish feature, We Are The Best! were previewed before their official TIFF premiere later this year. Other films this year included Finding Fela!, Breadcrumb Trail: A Slint Documentary, Looking For Johnny: The Legend Of Johnny Thunders, Swim Little Fish Swim, Miami Connection, #Postmodem, Heaven Adores You: An Elliot Smith Project and Frank.
This year also saw the return of CMW's Comedy Fest. Highlights included MTV's classic funnyman Tom Green's two special shows at Yuk Yuk's, and Kenny Hotz and Spencer Rice's Canadian adaptation of their hit series Kenny VS Spenny. YouTube sensation Miranda Sings and Sebastian Maniscalco also had audiences in stitches at their respective shows.
Over 160,000 fans were in attendance at this year's festival, with 3000 delegates taking part in panels and networking activities, 950 artists showcased in over 67 venues, over 400 speakers shared their knowledge with rapt audiences and 624 engaged journalists attended the festivities. CMW 2014 remained a trending event on twitter for the entire duration of the festival. As well, both the Digital Media Summit and the SiriusXM Indies were trending respectively
"Every year we set out to bring a memorable event to the city of Toronto and curate an international meeting place for industry alike, and this year was no exception," said CMW President Neill Dixon. "From MIA playing to an at-capacity crowd at Tattoo, to Quincy Jones' inspiring Celebrity Interview and Tom Green's hilarity at the Industry Awards, every one of the 160,000 attendees of the event this year can walk away with their own stories. Looking forward to doing it all again next year. 2014 is surely one for the books."
THE BUZZ:
"What hasn't changed about CMW in 2014 is its range of offerings-it still features a diverse lineup of music from artists both established and emerging, complemented by smaller samplings of film and comedy" - Torontoist
"Tegan & Sara and Ellie Goulding shine at Canadian Music week" - MuchMusic
"Without question, CMW is the bigger conference with some of the biggest names in the business." - Billboard
"Toronto comes alive for Canadian Music Week" - Newstalk
"New York legends Television proved to be the bucket list-smasher everyone hoped they would be. Dan Boeckner's new band Operators raised expectations high with one of their first performances (and later, two more of their first performances). And Teenage Head brought out all the stops for their punk history revue." - Chart Attack
For a full list of winners from the awards shows and photos taken throughout the week, please visit www.cmw.net and select the applicable pages.
Stay tuned for announcements regarding 2015 by following CMW on Twitter and Facebook.
ABOUT CMW
Canadian Music Week is Canada's leading annual entertainment event dedicated to the expression and growth of the country's music, media and entertainment industries. Combining three information-intensive conferences; a trade exposition; a film festival; a comedy festival; four awards shows and the nation's largest new music festival, CMW spans a five-day period in May at the Toronto Marriott Downtown Eaton Centre Hotel and over 60 downtown Toronto venues, attracting participants from across the globe.
PHOTOS:
password: cmwphoto2014
LINKS
https://www.facebook.com/canadianmusicweek
Contacts:
For Canadian Music Week Media Inquiries please contact:
Sacha Miller
CMW Publicity Manager
416-703-9703
[email protected]

For Canadian Music Week General information, please contact:
Bessie Bullard
Communications Director
905-858-4747
[email protected]


Copyright @ Marketwire
Related Keywords:
Home,Networking,Communications,Movies & Music,Movies by Genre,Sales,Sales & Marketing,Networking,Business Issues,Sales,Sales,Broadcast,Pro AV,Consumer Electronics,Digital,Presentors,Camera/Film,Prosumer/Consumer,Business,Consumer Electronics,Broadcast Technology,Consumer Technology,Business Issues,Broadcast,Consumer Electronics,Presentation,Awards,Events,Canada,Germany,Austria,Switzerland,Toronto,Taiwan,Australia,Cities,Marketwire,Film,Television,Music,Consumer Electronics,Business,Entertainment,Other,
---
Source:Marketwire. All Rights Reserved