More Related Stories
iConcerts Selects RRsat as Its Partner for Global Broadcast Requirements
April 02, 2014 --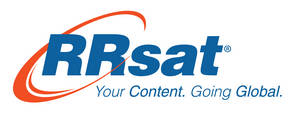 AIRPORT CITY BUSINESS PARK, ISRAEL -- (Marketwired) -- 04/02/14 -- RRsat Global Communications Network Ltd. (NASDAQ: RRST)
Multi-year agreement totals $2.4 million in revenues
RRsat to be single global supplier for playout and distribution
Deal builds on several successful years of partnership
RRsat Global Communications Network Ltd. (NASDAQ: RRST), a leading provider of digital content management and global distribution services to the broadcasting industry, announced today that it has signed a multi-year agreement with iConcerts, the cross media entertainment channel. The deal, which follows a successful relationship between the two companies that has been in place for more than three years, will see RRsat expand its role for iConcerts to become the single global supplier for all of its playout and distribution requirements.
iConcerts, which features the world's largest library of live music concerts, music TV shows and documentaries, has used RRsat's services for distribution solution for Asia and Africa via RRsat's platform on the Measat-3A satellite. Under the new contract RRsat will be providing iConcerts with an-end-to end solution including playout services as well as distribution solution to Europe via RRsat's platform on the Eurobird-9 satellite.
Mathieu Sibille, Group CEO of iConcerts, said: "iConcerts has enjoyed a successful relationship with RRsat, and I am delighted that we are able to extend this as we continue our global expansion. The combination of RRsat's expertise, flexibility and end-to-end solutions are instrumental to the global growth of iConcerts. The simplicity of having everything supplied to us from a single, trusted partner allows us to focus on our core business and expand our audience."
Mathieu continued: "In addition to being a more cost-effective strategy, working so closely with RRsat allows us to look to the future and identify new potential technical solutions to increase our revenue streams. We see RRsat as a long-term partner of choice for all of our global distribution needs."
Lior Rival, Chief Commercial Officer of RRsat, said: "We are very proud to have been selected by iConcerts to provide content management and playout services in addition to global distribution solutions. The extended and expanded partnership is a great endorsement for RRsat, we are delighted to be part of iConcerts' success and look forward to continue growing with them in the future."
About iConcerts
iConcerts, owned by Swiss-based Transmedia Communications, is a pioneering cross-media entertainment channel dedicated to live music. iConcerts features the world's largest library of live music concerts, music TV shows and documentaries, from best-selling contemporary stars to legendary performers like Jimi Hendrix, Lady Gaga, Amy Winehouse and Bob Marley. iConcerts HD has established itself as the first HD TV concert channel in Europe, and since 2010, spread to Africa & Asia. The iConcerts VOD services are available worldwide for all digital content delivery platforms such as IPTV, web, OTT and mobile.
About RRsat
RRsat Global Communications Network Ltd. (NASDAQ: RRST) provides global, end-to-end, digital content preparation and management, as well as content distribution services to the rapidly expanding broadcasting industry, covering more than 150 countries. Through its Global Network, composed of satellite, terrestrial fiber optic capacity and the public Internet, RRsat provides high-quality and flexible global content distribution 24 by 7 services to more than 630 channels reaching multiplatform operators, Internet TV and direct-to-home viewers worldwide. In addition, the company offers worldwide content management and distribution services for sports, news and other live events. More than 130 channels use RRsat's advanced production and playout centers, comprising of comprehensive media asset management services. Visit the company's website www.rrsat.com.
Information in this press release concerning iConcerts is based on information provided by iConcerts and has not been independently verified by RRsat.
Safe Harbor Statement
This press release contains forward looking statements within the meaning of Section 27A of the Securities Act of 1933, as amended, and Section 21E of the Securities Exchange Act of 1934, as amended. These forward-looking statements involve known and unknown risks and uncertainties and are based on current expectations, assumptions, estimates and projections about the companies and the industry as of the date of this press release. We undertake no obligation to update forward-looking statements to reflect subsequent occurring events or circumstances, or to changes in our expectations, except as may be required by law. Forward-looking statements are subject to risks and uncertainties that may cause actual results to differ materially from those contemplated by the forward-looking statements, including the risks indicated in our filings with the Securities and Exchange Commission (SEC). For more details, please refer to our SEC filings and the amendments thereto, including our Annual Report on Form 20-F for the year ended December 31, 2013 and our Current Reports on Form 6-K.
Add to Digg Bookmark with del.icio.us Add to Newsvine
Corporate Contact:
Elad Manishviz
CMO
Tel: +972 3 9280808
Email Contact

Media Contact:
Radi8 Creative
PR for RRsat
Tel: +1 801 592 5575
Email Contact


Copyright @ Marketwire
Related Keywords:
Broadcast,Management,Digital,Internet/Web,Business,Internet,Web,Law,Broadcast Technology,Broadcast,DTV,HDTV,IPTV,Africa,Israel,Marketwire,Business,Sports,Management Services,Television,Music,Internet Technology,Business,Entertainment,Internet,Sports,Other,
---
Source:Marketwire. All Rights Reserved