More Related Stories
RRsat to Report Fourth Quarter & Full Year 2013 Results on March 5th, 2014
February 18, 2014 --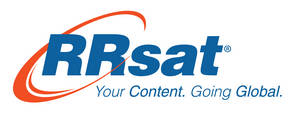 AIRPORT CITY BUSINESS PARK, ISRAEL -- (Marketwired) -- 02/18/14 -- RRsat Global Communications Network Ltd. (NASDAQ: RRST), a leading provider of comprehensive digital content management and global content distribution services to the broadcasting industry, announced today that it will release its financial results for the fourth quarter & full year, 2013, on March 5th, 2014 prior to the opening of the market. Management will host a conference call to discuss the results at 9:00 a.m. ET and 4:00 p.m. in Israel that day.
Details are as follows:
Dial-in number from within the United States: 1-877-941-2068
Dial-in number from Israel: 1809-21-4368
Dial-in number from the UK: 0800-358-5258
Dial-in number (other international): 1-480-629-9712
Playback, available until March 12, 2014 by calling 1-877-870-5176 (United States) or 1-858-384-5517 (international). Please use pin number 4669061 for the replay.
A live webcast is accessible at http://public.viavid.com/index.php?id=107916.
About RRsat
RRsat Global Communications Network Ltd. (NASDAQ: RRST) provides global, end-to-end, digital content preparation and management, as well as content distribution services to the rapidly expanding broadcasting industry, covering more than 150 countries. Through its Global Network, composed of satellite, terrestrial fiber optic capacity and the public Internet, RRsat provides high-quality and flexible global content distribution 24 by 7 services to more than 630 channels reaching multiplatform operators, Internet TV and direct-to-home viewers worldwide. In addition, the company offers worldwide content management and distribution services for sports, news and other live events. More than 130 channels use RRsat's advanced production and playout centers, comprising of comprehensive media asset management services. Visit the company's website www.rrsat.com.
Add to Digg Bookmark with del.icio.us Add to Newsvine
Company Contact Information:
Shmulik Koren
CFO
Tel: +972 3 928 0777
Email: Email Contact

Investor Relations Contacts:
Brett Maas
Hayden IR
Tel: 646-536-7331
Email Contact
or
Miri Segal-Scharia
MS-IR LLC
Tel: 917-607-8654
Email Contact


Copyright @ Marketwire
Related Keywords:
Israel,Marketwire,Business,Sports,Financial,Asset Management,Management Services,Television,Internet Technology,Business,Internet,Sports,Other,
---
Source:Marketwire. All Rights Reserved