More Related Stories
Avi Cohen, CEO of RRsat, Named 2014 Teleport Executive of the Year by the World Teleport Association
February 05, 2014 --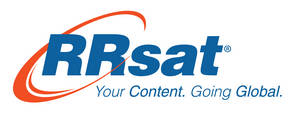 AIRPORT CITY BUSINESS PARK, ISRAEL -- (Marketwired) -- 02/05/14 -- RRsat Global Communications Network Ltd. (NASDAQ: RRST), a leading provider of comprehensive digital content management and global content distribution services to the broadcasting industry, today announced that the World Teleport Association named Avi Cohen, CEO of RRsat, as its 2014 Teleport Executive of the Year. Mr. Cohen will be honored during WTA's Teleport Awards for Excellence luncheon on March 11 during SATELLITE 2014. The Teleport Executive of the Year award is presented to an individual for demonstrated entrepreneurship, leadership and innovation in the development or operation of a teleport-based business.
Mr. Cohen was named the CEO of RRsat in July 2012. His challenge was to take RRsat -- already a global player -- to the next level of business success and value creation. Over the last 18 months, Mr. Cohen has led RRsat in its "Glocal" strategy -- become a global leader with local footprints in key markets around the world. Part of this strategy included two acquisitions: SM2 Sports & Media Solutions and JCA TV. RRsat also consolidated two sites at its Israeli headquarters into a new state-of-the-art Broadcast Center in Emek Haela. Financially, Mr. Cohen as led RRsat to all-time record results, including expectation of full-year 2013 growth in revenues in the range of 6% to 10% year-over-year growth from 2012.
"Only a handful of teleport operating companies have grown to significant size," said WTA executive director Robert Bell. "It is a highly competitive, capital-intensive business that is also built on personal relationships and service excellence. That is a high bar for any company to pass, and we salute Mr. Cohen for continuing the work of his predecessor, another Teleport Executive of the Year, and taking RRsat to the next level."
"On behalf of the entire RRsat team, I am extremely proud to accept this prestigious reward," commented Avi Cohen, CEO of RRsat. "Over the past two years, RRsat has worked tirelessly to transform the organization to meet the needs of today's broadcasters, creating a global company with more robust offerings and talented personnel in key broadcasting markets. I believe this award speaks to the progress we have made. Our industry is changing quickly, as consumers are now watching content in new ways, on new devices, in an increasingly mobile society. RRsat is proud to play a part in this evolution, and we look forward to what the future will bring for our industry."
About World Teleport Association
Since 1985, the World Teleport Association (www.worldteleport.org) has focused on improving the business of satellite communications from the ground up. At the core of its membership are the world's most innovative operators of teleports, from independents to multinationals, niche service providers to global carriers. WTA is dedicated to advocating for the interests of teleport operators in the global telecommunications market and promoting excellence in teleport business practice, technology and operations.
About RRsat
RRsat Global Communications Network Ltd. (NASDAQ: RRST) provides global, end-to-end, digital content preparation and management, as well as content distribution services to the rapidly expanding broadcasting industry, covering more than 150 countries. Through its Global Network, composed of satellite, terrestrial fiber optic capacity and the public Internet, RRsat provides high-quality and flexible global content distribution 24 by 7 services to more than 630 channels reaching multiplatform operators, Internet TV and direct-to-home viewers worldwide. In addition, the company offers worldwide content management and distribution services for sports, news and other live events. More than 130 channels use RRsat's advanced production and playout centers, comprising of comprehensive media asset management services. Visit the company's website www.rrsat.com.
Safe Harbor Statement
This press release contains forward looking statements within the meaning of Section 27A of the Securities Act of 1933, as amended, and Section 21E of the Securities Exchange Act of 1934, as amended. These forward-looking statements involve known and unknown risks and uncertainties and are based on current expectations, assumptions, estimates and projections about the companies and the industry as of the date of this press release. We undertake no obligation to update forward-looking statements to reflect subsequent occurring events or circumstances, or to changes in our expectations, except as may be required by law. Forward-looking statements are subject to risks and uncertainties that may cause actual results to differ materially from those contemplated by the forward-looking statements, including the risks indicated in our filings with the Securities and Exchange Commission (SEC). For more details, please refer to our SEC filings and the amendments thereto, including our Annual Report on Form 20-F for the year ended December 31, 2012 and our Current Reports on Form 6-K.
Add to Digg Bookmark with del.icio.us Add to Newsvine
Company Contact Information:
Elad Manishviz
CMO
Tel: +972 3 9280808
Email Contact

Investor Relations Contacts:

Hayden
Brett Maas
Tel: +1 646 536 7331
Email Contact

MS-IR LLC
Miri Segal
+1 917 607 8654
Email Contact


Copyright @ Marketwire
Related Keywords:
Israel,Marketwire,Science,Sports,Management Services,Television,Internet Technology,Biology,Business,Internet,Sports,Other,
---
Source:Marketwire. All Rights Reserved