More Related Stories
Social Media Breakfast Calgary - SMBYYC #48 - "Better Questions. Better Answers" with Speaker Russell Bowers - Sponsors Shaw, KAOS & Cult Collective
January 16, 2014 --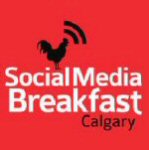 CALGARY, ALBERTA -- (Marketwired) -- 01/16/14 -- Social Media Breakfast Calgary #48
8:30 am - 10:30am, Friday, January 24, 2014
Shaw
The Calgary Social Media Breakfast (SMBYYC) is pleased to announce the January 2014 Topic:
Better Questions. Better Answers
Russell Bowers, writer/broadcaster based in Calgary and host of CBC's Daybreak, will discuss the nature of questions and how they work to not only tell a story but to shape it as well.
Attendees will get a better and more critical sense of what they hear, see and read in the media.
Post discussion, Russell will answer audience questions in an interactive Q&A.
Seating is limited. Please RSVP at SMBYYC48
About the Event
When: Friday, January 24, 8:30 to 10:30 a.m. (i)presentation will begin at 9:05 am
Where: Shaw: 2400 32 Avenue NE
Registration: To register - SMBYYC48
Cost: There is no fee to attend a Social Media Breakfast.
Parking: Shaw public parking is limited. More detailed parking instructions will be sent 48 hours before the event to those who have RSVPed.
Speaker
Russell Bowers is a writer/broadcaster based in Calgary. He's currently the host of Daybreak, the number 1 weekend morning show in Alberta and heard on CBC Radio One. His career extends back over 25 years during which he has amassed more than 11,000 interviews spread out over 7000 hours on air. Outside of radio, Russell is an award-winning record producer and actor. He's also an in-demand MC at community events.
Russell Bowers
403-462-3392
@VoiceOfRuss
Please Support Our Generous Sponsors...
Venue Sponsors: Shaw
Shaw Communications Inc. is a diversified communications and media company, providing consumers with broadband cable television, High-Speed Internet, Home Phone, telecommunications services (through Shaw Business), satellite direct-to-home services (through Shaw Direct) and engaging programming content (through Shaw Media). Shaw serves 3.3 million customers, through a reliable and extensive fibre network. Shaw Media operates one of the largest conventional television networks in Canada, Global Television, and 19 specialty networks including HGTV Canada, Food Network Canada, HISTORY® and Showcase. Shaw is traded on the Toronto and New York stock exchanges and is included in the S&P/TSX 60 Index (Symbol: TSX - SJR.B, NYSE- SJR). For more information about Shaw, please visit www.shaw.ca.
Please be aware that you are being included in a broadcast record for Shaw TV Calgary. You will be on camera. The recording will be broadcast on Shaw TV in the Calgary area only, and will be made available online at a later date.
Brett Hopper ShawTV - Calgary, Producer
Shaw Communications Inc., 2400 32nd Ave NE, Calgary AB., T2E 9A7
T: 403 536 7729 C: 403 401 3306 F: 403 735 6100 E: [email protected]
@ShawTVCalgary
Breakfast Sponsors:
:KAOS
Donna McTaggart: KAOS
www.facebook.com/donna.mctaggart
@donnamct
:Cult Collective
Cult Collective is a leading engagement agency helping brands create and grow cult followings. Together with the organizers of SXSW Interactive, Cult is hosting a first-of-its-kind event called The Gathering. It's a coming together of North America's most coveted brands to honour each other's achievements and share secrets on how they've forged fanatical followings of loyal customers with attendees. Senior leaders behind top brands including Red Bull, Go Pro, Urban Outfitters, Las Vegas and the NHL will reveal their cult brand building techniques in a series of closed door sessions. The Gathering takes place February 19-20 in Banff. Details and tickets available at: http://www.cultgathering.com/
Ryan Gill: [email protected]
Sheldon Lachambre: [email protected]
The Gathering: [email protected]
Phone: 403-228-7949
www.linkedin.com/company/cult-collective-ltd-
www.rebelmouse.com/cultcollective/
www.instagram.com/cultcollectiveltd
@cultideas
Special THANKS to our ongoing event sponsors for their continued support of Social Media Breakfast...
Communications Sponsor: Marketwired
(403) 266-2443
@Marketwired
Equipment Sponsor: Matrix Video Communications
(403) 640-4490
@MatrixVideo_
Video Sponsor: Calgary Video Creator
Travis Cross - [email protected]
(403) 796-9200
@cvcTravis
We Invite You To Become A SMBYYC Sponsor
For about $350, your organization can get some fantastic exposure at the events and online. It is an inexpensive way to get quality back links to your website.
About SMBYYC
The SMBYYC houses an open environment to share today's best and worst examples of social media, as practiced by individuals, industries and organizations in Calgary and around the world. Guest speakers share their experience and expertise of social media use, followed by an opportunity to network with a community of like-minded individuals.
Follow @SMBYYC
Please follow @SMBYYC and the SMBYYC Twitter list. This will allow you to connect with all Calgary Social Media Breakfast followers.
Committee Members:
Donna McTaggart: @donnamct
Mike Spear: @mikesgene
Catherine Saykaly-Stevens: @CatherineNetWeb
Crystal DeCnodder: @Pistol_Crystal
Kaela Caron: @Kaela_Jo
Laura Istead: @DiscoverGreen2
Melanie Gowans: @melgowans
Terry Lo: @calgarydreamer
Gwyn Auger: @magicassistant
To add your name to mailing list:
Email your email address to: [email protected]
(You will receive email with a link to the #SMBYYC Press Release to sign up)
Add to Digg Bookmark with del.icio.us Add to Newsvine
Contacts:
Donna McTaggart
@SMBYYC
[email protected]


Copyright @ Marketwire
Related Keywords:
Office Equipment,Internet,Business Issues,Social Media,Social Network,Career,Broadcast,Pro AV,Internet/Web,Camera/Film,Programming,Internet,Broadband,Email,Social Media,Authoring/Programming,Broadcast Technology,Broadcast,email,Canada,Toronto,Marketwire, Inc.,Television,Internet Technology,Internet,Email,
---
Source:Marketwire. All Rights Reserved