More Related Stories
App Streaming Leader Agawi Announces Lighthouse Partner Program for Ad Networks Deploying AppGlimpse(TM) Platform to Serve "Playable Ads" Inside iOS & Android Apps for Smartphone & Tablets Over Wi-Fi and 4G
Agawi's AppGlimpse "Try Before You Download" Playable Ads to Be Available at Scale for Ad Networks and App Publishers to Drive Quality App Installs in 2014
January 15, 2014 --

SAN FRANCISCO, CA -- (Marketwired) -- 01/15/14 -- The mobile advertising industry -- always seeking new ways to capture the attention of today's on-the-go consumers -- has a new arrow in its quiver for 2014 with action-packed, playable ads designed to let consumers "try before they download" an app or a game.
The technology for playable ads -- called AppGlimpses -- comes from app streaming leader Agawi which has streamed over one billion minutes of apps since 2011. Agawi launched the world's first playable mobile ad trials in June 2013, and has today announced its Lighthouse Partner program for the AppGlimpse™ platform. Ad networks, advertisers and publishers are invited to join the program which is offering attractive pricing and collaboration on ad unit design for a limited number of partners selected in Q1. Interested companies can sign up by sending an email to [email protected].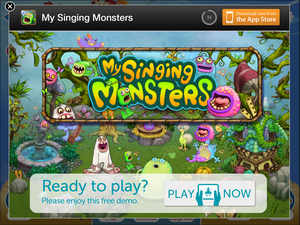 "AppGlimpse is the only platform that requires no work for the advertisers, and has been battle tested in live trials with hundreds of thousands of real users," said Rohan Relan, co-founder and CEO of Agawi. "Banners are passé, and video is not differentiated anymore. AppGlimpse provides an engaging experience that motivates consumers, drives more impressions, and ultimately delivers a greater long-term value through increased user engagement."
Big Blue Bubble, an advertising partner during the AppGlimpse trial and makers of hit games like My Singing Monsters had this to say:
"To say we're pleased with the AppGimpse trial we participated in would be the understatement of the year. The quality of users from the initial trial exceeded our expectations and the technology performance is superb." - Bryan Davis, Director Business Development, Big Blue Bubble.
The Battle for Mobile Eyeballs
Playable "try before you download" ads are the latest salvo in the battle for advertisers to grab more consumer eyeballs and provide an experience that ensures a purchase doesn't disappoint. With AppGlimpse, the user can "play around and check out the app" without having to click to an app store, wait three minutes to enter passwords, and then download the app.
"Current mobile ad solutions just don't grab attention like the option to actually try an app or game before you spend your money," explained Relan. "AppGlimpse is all about long-term value... when you're happy with your purchase you tend to keep engaged, buy more items and spend more time in that app or game."
How it Works for Advertisers
AppGlimpse is the only platform with zero work for the mobile advertiser, and with the capacity to serve ads globally over Wi-Fi, 4G and some LTE and 3G networks economically and at scale.
Advertisers simply upload their app or game to the AppGlimpse dashboard where Agawi automatically creates a virtualized version to stream from the Agawi cloud. Playable ads can range from one to two minutes before directing the consumer to a full, downloadable version for purchase.
AppGlimpse is designed to drive higher eCPMs and currently supports the top performing ad formats with easy integration.
In Mobile Ads, Context is Important but User Experience is King
Peter Relan, Chairman and co-founder of Agawi, explains that context -- showing the ad to the right user, at the right time, in the right place -- plays an important role in consumer and advertiser relationships. However, from a user perspective, the experience of the ad is king.
"AppGlimpse is designed as a better alternative to banner ads which some regard as ineffective because they take up an important part of a small screen, often appear to be annoying and are terrible user experiences," said Relan.
What AppGlimpse provides, says Relan, is a delivery platform that enables ad networks to instantly achieve a quality experience by giving the user a beautiful interactive native app experience.
See AppGlimpse in action:
http://youtu.be/igfnaRVnv
About Agawi
Agawi is a technology platform company focused on low-latency streaming of apps from the cloud to mobile devices. We work with a variety of partners including Microsoft, Marvell and NVIDIA, leading app publishers, and Cloud Service Providers to provide a high-performance, scalable, and cost effective cloud-based platform for app streaming. Based in Menlo Park, CA, Agawi was founded by Silicon Valley veteran entrepreneurs and spun out of the YouWeb Incubator in 2010. It recently won a Best in Biz award for fastest-growing small company.
Image Available: http://www2.marketwire.com/mw/frame_mw?attachid=2496169

Media Contact
Peter Brooks
Agawi.io
415-425-4225


Copyright @ Marketwire
Related Keywords:
Computers/Home Office,Communications,WiFi,Digital Toys,Tablets,Networks,Handheld,Smart Phone,tablet,Games,Tablet,Sales,Advertising,Internet,Broadcast,Streaming,Computers/Peripherals,Prosumer/Consumer,Business,WiFi/Wireless,Notebook/Laptop/Tablets,iOS,Handheld PC/PDA,PDA/Smartphone,Internet Media,email,Mac,Android,Marketwire,Business,Email,
---
Source:Marketwire. All Rights Reserved