More Related Stories
LevelEleven Executives and Customers to Present at the World's Largest Vendor-Led Technology Gathering
Annual Conference Includes Enterprise Gamification Focused Panels and Sessions
October 31, 2013 --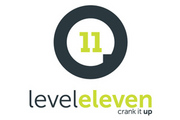 DETROIT, MI -- (Marketwired) -- 10/31/13 -- Detroit-based LevelEleven executives and customers will be presenting during the world's largest vendor-led technology event next month. LevelEleven CEO Bob Marsh and CTO Kevin O'Hara have been nominated to speak, along with LevelEleven customers Kelly Services and Varsity Spirit. LevelEleven's lead product, Compete, is an easy-to-use app that creates competitions and leaderboards around any behavior that can be tracked in a CRM system.
LevelEleven is participating in various panels and sessions during Dreamforce 2013, taking place November 18-21, in San Francisco, CA.
"The growth of sales gamification was a popular topic during last year's conference, based on various product announcements, panels and sessions," Bob Marsh, CEO of LevelEleven noted. "However, a year later sales professionals are looking for more concrete evidence that gamification is working. Our team is eager to share insight, best practices and predictions for where gamification is headed with attendees during this year's event."
Specific dates and times for the sessions and panels listed below will be announced at a later date. Marsh is featured in the following sessions:
"When is Competition Healthy vs. Damaging?" In this solo session, Marsh examines the fine line between beneficial and damaging competition, based on the growing concept of sales gamification.
"Gamification Isn't for Kids Anymore," In another solo session, Marsh shares unexpected ways traditional workforces have successfully used gamification to motivate older sales teams, versus the younger demographic that "gamification" seems naturally attached to.
LevelEleven CTO and Force.com MVP Kevin O'Hara, is featured on various developer tracks during the conference including:
Executives from Kelly Services, the employment agency & recruitment company, and Varsity Spirit, the manufacturer of cheerleading and dance apparel, are also presenting in sessions about the impact of gamification within a sales organization. Both companies are LevelEleven customers.
"Dreamforce is considered the enterprise cloud computing event of the year, and attracts the industry's best and brightest," said LevelEleven CEO Bob Marsh. "Being selected to speak to such an expert audience on various topics from the gamification CRM revolution to more technical developer focused content, is a great validation of LevelEleven's growth as a leader in the sales gamification space."
LevelEleven is located in the heart of downtown Detroit's Madison Building, a growing high-tech hub. LevelEleven currently has more than 100 customers, including Comcast, Delta Airlines, OpenTable, Stanley Black & Decker and Concur, among others. For more information, visit www.leveleleven.com.
About LevelEleven
LevelEleven works with VP's of Sales at companies including Comcast, OpenTable, Morningstar, Stanley Black & Decker and dozens of others who are looking for ways to engage their teams around key initiatives, and drive usage of CRM to better manage their business. LevelEleven's lead product, Compete, is an easy-to-use enterprise software tool to create competitions and leaderboards around any behavior that can be tracked in your CRM system. Compete provides a step-by-step configurator to pinpoint the behaviors you want to motivate, and create high impact leaderboards that tap into salespeople's competitive nature. Unlike most enterprise software and gamification applications in the marketplace Compete allows clients to be 100% deployed in less than 30-minutes, and surrounds salespeople with leaderboards via web, email, social media, and their mobile device.
LevelEleven is based in Detroit, Michigan, and is part of the Detroit Venture Partners portfolio of companies.
Add to Digg Bookmark with del.icio.us Add to Newsvine
Annie Betz
LaunchSquad for LevelEleven
212-564-3665
leveleleven@launchsquad.com


Copyright @ Marketwire
Related Keywords:
Sales, Applications, Incentives, CRM - Customer Relationship Management, Sales & Marketing, Internet, Cloud Computing, Social Media, Internet Server Applications, Social Network, E-mail, Sales, Sales, Broadcast, CAD, Streaming, Architects, Business, Standards/Initiatives, Internet Media, email, Cloud, Social Media, Cloud, Marketwire, Science, Internet Technology, Business, Email, Other,
---
Source:Marketwire. All Rights Reserved