More Related Stories
StoreFlix Receives Funding From CincyTech
StoreFlix(R) Offers Real-Time Visual Verification Technology to CPGs, Distributors and Retailers
April 06, 2012 --

CINCINNATI, OH -- (Marketwire) -- 04/06/12 -- StoreFlix LLC, a mobile technology company that allows businesses to instantly gather, analyze and share in-store information about product displays, placement and inventory, has received an investment from CincyTech and other investors.
The investment will be used for additional application development, to drive sales and to promote long-term growth.
The StoreFlix technology provides a visual verification system for any industry that needs to see its product or service in the field. For example, in the consumer packaged goods industry, it allows a company field representative to take pictures and videos of their products and displays on shelves at stores all over the country, check whether those displays are compliant with planograms and send those images and data to their supervisors in real time.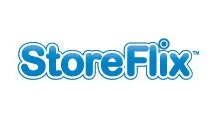 "StoreFlix has a world-wide, patent-pending mobile technology that allows businesses to see, analyze, and share their operations around the world in real-time," founder and CEO Phil Storage said. "We have had great success this past year with some of the top retail brokers, consumer-packaged goods companies and other national corporations using our product and participating in programs."
Storage has 22 years of CPG sales management, category and broker management and retail operations experience. Consumer brands invest millions of dollars every year in their retail environments. Until now, they've relied on syndicated services to track the success of their retail execution, and often there is a delay in receiving their results or from places where syndicated data is unavailable in the U.S. and abroad, Storage explained. StoreFlix has already successfully executed large pilot programs with major CPG companies, brokers and retailers.
"It puts the manager on the sales floor visually and in real time without actually travelling there," said Adam Janszen, StoreFlix director of sales, who brings 10 years of experience in retail and consumer packaged goods to the company.
StoreFlix's technology allows tagging on each item so that, rather than having to sort through a barrage of photos of CPG products, the manager can easily find the most relevant data, Janszen said.
CincyTech Senior Analyst Justin Thompson said the seed-stage investor was impressed with the company's pilot-program relationships. CincyTech invested $200,000 in StoreFlix.
"We see the value StoreFlix provides as a communication tool between the brand and the retailer," he said. "It's highly marketable."
About StoreFlix®
Reinventing social media tools for corporations, StoreFlix has developed a world-wide, patent-pending technology that allows managers to see, analyze and share their operations around the world. StoreFlix provides a social media network for businesses that improves communication and execution. Founded in 2008 in Mason, Ohio, StoreFlix serves Fortune 500 corporations in a variety of industries, including consumer packaged goods, consumer products, consumer goods, retailers, franchises, the service industry, manufacturing and the government sector.
About CincyTech
CincyTech is a public-private seed-stage investor in startup businesses in high-tech industries in Southwest Ohio. With support from Ohio Third Frontier and corporations, foundations, civic organizations and individuals, it is driving capital and talent into venture-worthy companies in information technology, bioscience and advanced manufacturing.
Image Available: http://www2.marketwire.com/mw/frame_mw?attachid=1941585

Add to Digg Bookmark with del.icio.us Add to Newsvine
Phil Storage
Founder & CEO
StoreFlix
513-720-7773
Email Contact

Karen Vance
The Deciding Factor
513-459-9064
513-503-2337
Email Contact

Carolyn Pione Micheli
communications director
CincyTech
513-313-5910
Email Contact


Copyright @ Marketwire
Related Keywords:
mobile retail technology, in-store displays, visual verification system, in-store data analysis, Manufacturing,Sales,Manufacturing/Production,Shipping & Receiving,Manufacturing,Sales & Marketing,Storage,Productivity Applications,Services,Misc,Management,Sales,CEO/CFO,Sales,USA,Marketwire, ,IT (Information Technology),Medical,Computer Science,Other,
---
Source:Marketwire. All Rights Reserved