More Related Stories
Yappn Launches Global Social Platform
September 20, 2013 --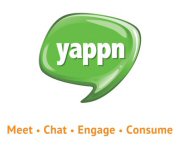 NEW YORK, NEW YORK -- (Marketwired) -- 09/20/13 -- Yappn Corp. (OTCBB:YPPN) is pleased to announce that Yappn (www.yappn.com), the online multi-lingual social community and powerful social tool set where people can meet, chat, engage and consume media in almost 70 languages will begin launching publicly today at 4 pm EST depending on domain propagation.
The open launch comes about after a successful beta testing period. Now all members of the public are able to participate in multi-lingual discussions with people around the world in their native tongues by removing language, geographic and social barriers that have made many other online and mobile platforms homogenous in nature by only engaging "friends" rather than those who globally, are interested in a particular brand, movie, artist, celebrity or topic.
"This is just the beginning as we continue to listen to our partners and users on how to globalize social media and engagement. Brands can now leverage their single language focused messaging around the world, in real-time, said David Lucatch, Founder and CEO. "Yappn compliments social platforms like Facebook, Twitter, Pinterest, Tumblr, YouTube and others by integrating the Yappn tool set into many other social platforms and allowing major social media to co-exist inside of Yappn. This provides a unique services offering that is already being commercialized and will continue to accelerate."
Yappn will continue to evolve and become more robust with additional feature sets, gamification and commercial programs already under development. "Based on the overwhelming positive feedback we received from our beta testing audience, we continue to tweak and edit the Yappn interface, platform and tools and encourage our users to continue to provide feedback to improve the experience", said Rob Cole, General Manager of Yappn.
Yappn has already seen commercial success with its set of multi-lingual social engagement tools in two large scale events. Recently, Yappn provided live video multi-lingual translation for the online broadcast of the red carpet arrivals for The Wolverine movie in London and also hosted a multi-lingual Twitter chat with Tom Hiddleston, who portrays Loki from the upcoming movie, Thor: The Dark World. International fans were able to participate in the Q&A on Twitter by submitting their questions to Mr. Hiddleston in almost 70 languages through Yappn's global social engagement tool.
Users are encouraged to go to www.yappn.com to register for the platform and start participating.
Like the Yappn Facebook page and follow Yappn on Twitter: @YappnCorp
About Yappn
Yappn (www.yappn.com) is a place where people can meet, chat, engage and consume content, individually, in group and by topic, regardless of the language they speak. By removing the language barrier, the entire world opens up to an entirely new paradigm of communication.
Yappn redefines global social marketing by also providing a set of stand-alone commercial tools for brands providing easy to implement and cost effective globalization solutions complimenting Twitter, Facebook, Pinterest, Instagram, Flickr and YouTube, web, mobile, online broadcasting, private networks and event virtualization.
Intertainment Media Inc. (TSX VENTURE:INT) (OTCQX:ITMTF) (FRANKFURT:I4T) has a controlling interest in Yappn Corp.
Yappn Corp. is publicly traded in the US on the OTCBB - symbol "YPPN".
Forward Looking Information
Legal Notice and Safe Harbor Statement
This press release contains "forward-looking statements" within the meaning of Section 21E of the Securities Exchange Act of 1934. All statements, other than statements of historical fact, and those preceded by or that include the words "believes," "expects," "given," "targets," "intends," "anticipates," "plans," "projects," "forecasts" or similar expressions, are "forward-looking statements." Although Yappn Corp.'s management believes that such forward-looking statements are reasonable, it cannot guarantee that such expectations are, or will be, correct. These forward-looking statements involve a number of risks and uncertainties, which could cause the Company's future results to differ materially from those anticipated. Additional information regarding the factors that may cause actual results to differ materially from these forward-looking statements is available in the Company's filings with the SEC including the Current Report on Form 8-K filed on April 3, 2013 and each subsequently filed Quarterly Report on Form 10-Q and Current Report on Form 8-K. The Company assumes no obligation to update any of the information contained or referenced in this press release.
Contacts:
Yappn Corp.
David Lucatch
Founder and CEO
info@yappn.com
www.yappn.com


Copyright @ Marketwire
Related Keywords:
Marketwire, Inc., Internet Technology, Other,
---
Source:Marketwire. All Rights Reserved