More Related Stories
Pure to Deliver Access to Any and All Music or Radio Apps Throughout the Home With the Jongo Wireless Multiroom Music System
Pure Rolls Out Enhanced Caskeid Technology; Releases Caskeid App Developer Kit
January 06, 2014 --

LAS VEGAS, NV -- (Marketwired) -- 01/06/14 -- CES 2014 -- Pure (South Hall #36254) -- Pure is expanding its Pure Connect platform today at CES so its Jongo wireless stereo and multiroom music system can be used with any music streaming service including Pandora, Rdio, Deezer and Spotify, as well as any audio or radio app.
Globally, there are 500 licenced music services across 100 territories,* as well as thousands of radio apps, and this new flexible approach allows music fans to stream their preferred music or radio service, whether that be Radioplayer in the UK, SiriusXM in the US, Spotify or lesser known apps such as Madagascar radio, to multiple Jongo speakers and enjoy their favorite playlists and content throughout their homes.
Pure is enabling this using two initiatives. The first uses enhanced Caskeid** technology to seamlessly deliver app content to multiple speakers using a unique combination of Bluetooth and Wi-Fi. Users simply select their chosen music or radio service app and send it via Bluetooth to a single Jongo speaker in a group. The Caskeid technology integrated into the Jongo speakers takes care of ensuring that music is then seamlessly and synchronously sent to all the speakers in the group. The session and speaker configuration is set up using the Pure Connect App.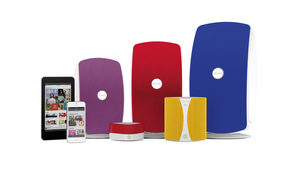 Additionally, to make Jongo's advanced capabilities fully accessible to music services, Pure will also release a Caskeid App Developer Kit (ADK) for developers, which will enable agnostic app support over Wi-Fi for Jongo.
"We are not in the business of picking a winning music streaming service or radio app -- different services are right for different audiences -- but we want to give our customers the most choice," said Noam Meppen, Pure's director of sales, U.S. "Jongo was designed with flexibility in mind, which is why all Jongo speakers come with both Bluetooth and Wi-Fi. We've always used this flexibility to make sure all services can be played to a single Jongo speaker but now we are making the major step of extending this flexibility, via Bluetooth, to enable streaming of any music service or radio app to multiple Jongo speakers."
Pure will be demoing enhanced Caskeid features for Jongo at CES 2014 and both Android and iOS users will be able to access the first phase of this free new feature during Q1 2014.
Pure will also release the Caskeid App Developer Kit (ADK) in Q1 2014.
For more information, please visit www.pure.com/us or the Pure U.S Facebook page.
Editor's Notes
* IFPI report 2013 - services are only counted once in the overall figure even if they are licenced in multiple territories
** Pure uses Caskeid technology, developed by Pure's parent company, Imagination Technologies, to deliver the world's most accurately synchronized wireless multiroom audio experience. This level of synchronization was previously only possible with wired systems and accurate synchronization is vital when listening in stereo. Wireless systems are technically challenging to implement and are often impacted by unreliable network or unfavourable environmental conditions. The threat of instability can really impact the listening experience, especially when listening in stereo or ultimately 5.1 surround sound. That's because the human ear can typically detect a deviation of between 50 microseconds between speakers. With Caskeid technology the deviation is less than 25 microseconds. This means that listeners can hear each individual instrument and vocal performance as it was created in the studio with no drift or shift in the stereo landscape.
About Pure Connect and Jongo
The Jongo multiroom music system consists of the Jongo A2 wireless hi-fi adapter; Jongo S3 rechargeable, portable wireless speaker; Jongo T2, T4 and T6 wireless multiroom speakers. Currently, one of the only systems to offer both wireless multiroom and casual Bluetooth streaming, Jongo offers users the best of both worlds and a truly immersive experience. Users can simply add extra Jongo speakers or adapters on the same Wi-Fi network to build their multiroom system.
The Pure Connect app is available on iOS and Android and is free to download. There are three services to choose from:
Pure Connect Green (free forever) Ideal for radio, music, sports and news fans; tune into live radio, catch-up with on-demand programs, save favorites and play your entire digital music collection stored on your smartphone, tablet, PC, Mac or NAS device.
Over 20,000 radio stations
More than 200,000 on-demand podcasts and programs
Pure Connect Blue ($4.99 a month - introductory offer available to Pure device owners)
Unlimited streaming of millions of tracks on top of your own music and lets you discover new artists and create playlists
Pure Connect Violet (free for a month and then $9.99 a month)
Take your music wherever you go: online and off. One app-tap downloads your playlists so you can listen wherever you are. Perfect for when you're not connected to Wi-Fi -- like driving in the car.
The Jongo multiroom music system is now available in around 2,800 Walmart stores and over 300 Best Buy locations as well as Nebraska Furniture Mart and B+H Photo. Jongo products can also be purchased online at Amazon.com, Target.com, newegg.com, OfficeMax.com and more.
Images:
To download images of the Pure Jongo multiroom music system please visit imagebank.pure.com and enter the following details:
Username: purepress2014
Password: Pure2014
About Pure
Pure is a world leading consumer electronics manufacturer and leads the way in music streaming and radio systems, multiroom audio and entertainment cloud services with the Pure Connect portal www.pureconnect.com as well as innovating in new areas such as the TV set top box market. Designed and engineered in the UK, all of Pure's products are manufactured with the environment in mind and at ethically audited facilities. Pure is a division of Imagination Technologies Group plc. See www.pure.com.
Image Available: http://www2.marketwire.com/mw/frame_mw?attachid=2488797

Add to Digg Bookmark with del.icio.us Add to Newsvine
Copyright @ Marketwire
Related Keywords:
Home, Furniture, Parents, Communications, WiFi, Digital Audio, Movies & Music, Smart Phone, Home Networks, WiFi Adapters, iPods, Surround Sound, Speakers, Sales, Sales & Marketing, Sales, Sales, Broadcast, Post/Production, Consumer Electronics, Streaming, Digital, Director, Prosumer/Consumer, Business, Consumer Electronics, Handheld PC/PDA, PDA/Smartphone, Standards/Initiatives, Consumer Technology, Internet Media, Consumer Electronics, podcasting, Mac, Android, OS9, OSX, USA, Marketwire, CES Attendees, Consumer Electronics Show, Science, Sports, Television, Music, Consumer Electronics, Communications Technology, Business, Entertainment, Sports,
---
Source:Marketwire. All Rights Reserved