More Related Stories
New York Radio Icon Joins Salem New York
March 20, 2014 --

CAMARILLO, CA -- (Marketwired) -- 03/20/14 -- Salem Communications Corporation (NASDAQ: SALM) announced today that it has reached an agreement for New York radio icon John Gambling to come out of retirement, and join the lineup at AM 970 The Answer. Gambling will begin April 14th in the 11am to 1pm time slot. It means that an 88 year tradition of having a Gambling on the air in New York radio will go on. Gambling had previously announced his retirement from New York radio last December.
"They made me an offer I couldn't refuse to steal a line," said Gambling. "I heard from so many listeners that they wanted more. I hope they feel that way after April 14th!"
"When John Gambling left New York radio last December there was a void created for quality morning radio in this market, and we decided to fill it," said Salem VP Director of Spoken Word Format Phil Boyce, who is also the regional VP for the New York market for Salem. "John had worked for me for nine years at WABC. Before and after that he worked for Jerry Crowley at WOR. Jerry and I looked at each other and thought this was something we could not pass up." AM 970 The Answer had already found a new morning program with Joe Piscopo who began January 2nd, and Gambling was available for mid-days.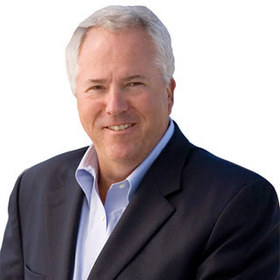 "It is rare when you have a chance to build a lineup like we are building here at The Answer, and even rarer still when you have a chance to add somebody of John's integrity and character," said AM 970 The Answer Vice President and General Manager Jerry Crowley. "Every talk radio listener in this market knows and admires John and we are sure he will do well with both listeners and advertisers. This is huge for us," said Crowley.
Gambling's Grandfather John B. Gambling started a morning program on WOR in 1925. He was followed by his son John A. Gambling in 1959. He brought his son John R. Gambling to the microphone in 1985 as co-host, and then the solo host starting in 1991. WABC then brought Gambling over in 2000, and he returned to WOR in 2008, where he eventually retired in December of 2013. That retirement ended up being short lived.
Ironically, AM 970 The Answer moved into Manhattan in December, into the space formerly occupied by WOR who moved to the Clear Channel building. So while Gambling will not be on WOR he will be broadcasting from the same studio location as he did before. "There has been a large amount of upheaval in the talk radio world in New York," said Boyce. "John brings an element of stability and class to our station. And do not even think we are finished... we're just getting started."
Follow us on Twitter @SalemCommIR.
About Salem Communications
Salem Communications is the largest commercial U.S. radio broadcasting company that provides programming targeted at audiences interested in Christian and conservative radio content, as measured by the number of stations and audience coverage. Upon completion of all announced transactions, the company will operate a portfolio of 102 radio stations in 39 markets, including 62 stations in 22 of the top 25 markets. Salem's portfolio includes 40 stations programmed in a Christian talk format, 27 in a conservative talk format, 12 in a contemporary Christian music format, 8 in a Spanish Christian format and 10 in a business talk format. We also program the Family Talk™ Christian-themed talk format on XM Radio, channel 131 and operate ChristianRadio.com and Conservativeradio.com.
Salem also owns Salem Radio Network®, a national radio network that syndicates Christian and conservative talk, news and music programming to approximately 2,500 affiliated radio stations, and Salem Media Representatives, a national media advertising sales firm with offices across the country.
Salem operates Salem Web Network, an online provider of Christian and conservative themed news, analysis and commentary. Christian content websites include: Christianity.com, Crosswalk.com®, BibleStudyTools.com, GodTube.com and GodVine.com, WorshipHouseMedia.com and OnePlace.com. Conservative opinion websites include Townhall.com™, HotAir.com, Twitchy.com, Redstate.com and HumanEvents.com.
Salem also owns Regnery Publishing, the country's leading publisher of conservative books. Salem Publishing™ circulates Christian and conservative magazines including Homecoming, YouthWorker Journal™, The Singing News, Preaching and Townhall Magazine™. Xulon Press™ is a provider of self-publishing services targeting the Christian audience.
Image Available: http://www2.marketwire.com/mw/frame_mw?attachid=2545901

Company Contact
Phil Boyce
VP/Director, Spoken Word Format
Salem Communications
(646) 543-7445


Copyright @ Marketwire
Related Keywords:
USA,Marketwire,Music,Internet Technology,Business,Other,
---
Source:Marketwire. All Rights Reserved