More Related Stories
New Series, "100 Huntley Street," Based on Canada's Longest Running Daily TV Talk Show, Debuts in U.S. March 9
Eric Metaxas and April Hernandez Host the Inspirational Weekly Television Program
March 06, 2014 --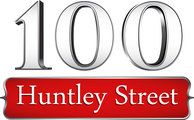 ATLANTA, GA -- (Marketwired) -- 03/06/14 -- A new inspirational syndicated series, "100 Huntley Street," will debut across the U.S. on March 9. The weekly talk program is based on Canada's longest running daily talk show from show creators at Crossroads Media Group. Celebrity guests, renowned experts and remarkable individuals will share their inspirational stories, personal challenges and issues, as well as faith and Bible application during the Sunday morning program, which will continue rolling out to new markets this spring.
Crossroads Media Group, parent company and producer of both the Canadian and U.S. versions of "100 Huntley Street," put together a recognizable roster that includes co-hosts Eric Metaxas, New York Times bestselling author, speaker and radio host, and critically acclaimed actress April Hernandez ("30 Rock," "Dexter," "Freedom Writers"). Guest stars include Academy Award winner Nicolas Cage, "Survivor" and "The Bible" Executive Producer Mark Burnett and actress Roma Downey, pastor Rick Warren, and actor Quinton Aaron of the Oscar-winning film "The Blind Side."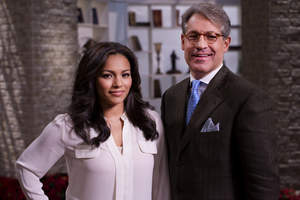 The Canadian version of the program has been on the air for more than 35 years, and its parent media company has been in television broadcasting for more than 50 years. The show has garnered large audiences and support in its home country and offers a fresh and inspiring change to the discussion of real issues in the lives of U.S. viewers.
"Our hope is to further healthy and inspiring dialogue about the important issues we cover in the show," says Bruce Stacey, Chief Content Officer at Crossroads Media Group. "We do that by presenting a balanced look at topics that affect families across the U.S."
Crossroads Media Group Global CEO John Hull anticipates a positive response from U.S. viewers: "America has never seen anything like '100 Huntley Street.' It is an entertaining program at the intersection of faith, culture and media. We are incredibly grateful for the nearly 100 million homes who will welcome our family to join theirs every Sunday morning."
To bring the show to millions of viewers across the U.S., Crossroads is partnering with ATI (Associated Television International) to syndicate the new series and form partnerships with widely reaching networks such as REELZ network, CW and more.
"I am proud of what our partners at Crossroads Media Group have been able to accomplish with 100 Huntley Street in bringing well-known celebrity faces in to openly discuss issues that we all can relate to. 100 Huntley Street is just the latest example of ATI fulfilling of its mission to promote uplifting and socially relevant content," said ATI's President of Worldwide Media, Jim Romanovich.
Crossroads is also involved in saving lives around the world by providing clean water, agricultural programs and education to people through its Give Life humanitarian efforts. Those efforts will be promoted and supported and success stories shared through the "100 Huntley Street" platform.
Interview opportunities, host bios and headshots are available. Check local listings for specific air dates and times. For more information, visit 100Huntley.com.
ABOUT CROSSROADS MEDIA GROUP
Crossroads is Canada's leader in providing faith and values media content for people of all ages. The Canadian "100 Huntley Street," the flagship television program of Crossroads, was founded by Rev. David Mainse and is the longest running daily television program in Canada. Crossroads has provided relevant messages of faith and inspiration for millions of Canadians for 50 years and this new version of its popular "100 Huntley Street" is its first entry into U.S. television. Its mission is to convey the unchanging message of God's love to people around the world. Crossroads interacts with its viewers via 24/7 prayer lines, and it has also been a highly respected and effective not-for-profit aid agency for more than 25 years, having responded in times of natural disaster worldwide, raising funds and partnering with on-site, non-government organizations for emergency relief and long-term rebuilding strategies.
Image Available: http://www2.marketwire.com/mw/frame_mw?attachid=2536635

Add to Digg Bookmark with del.icio.us Add to Newsvine
For More Information, Contact:
Brittany Thoms
678.409.8140
Email Contact


Copyright @ Marketwire
Related Keywords:
Canada,USA,Marketwire,Film,Television,Celebrities,disaster,Family,
---
Source:Marketwire. All Rights Reserved