More Related Stories
L.A. County Fair Takes Visitors "Where No One Has Gone Before"
September 13, 2013 --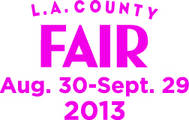 FAIRPLEX, CA -- (Marketwired) -- 09/13/13 -- Fair, the fun frontier. These are the voyages of the L.A. County Fair. Its mission: to explore fantasy worlds, to seek out barnyard and underwater animal life, to boldly have more fun than any person before. On Saturday, Sept. 14, Trekkies can warp to the fantastic world of the L.A. County Fair and get in free from 10 a.m. to 1 p.m. when dressed in their favorite Star Trek costumes and attire as part of "Star Trek Day" at the Fair. Scanners are detecting a celebrity appearance, exclusive memorabilia, an official movie screening of the newly released DVD STAR TREK INTO DARKNESS under the stars and more for a galactic day.
Humans, Klingons and Vulcans can experience the world's largest collection of authentic Star Trek artifacts and information ever put on display, including costumes, sets and props from all five Star Trek television series and eleven feature films at Star Trek: The Exhibition. New to the L.A. County Fair and open throughout all Fair days, admission to the exhibit is $5.
Inside the exhibit, as a special Star Trek Day-only treat, Trekkies can meet Star Trek: Voyager's Holographic Doctor, Robert Picardo, from 1:30 p.m. to 3:30 p.m., and the Vulcan Tuvok, Tim Russ, from 3:30 p.m. to 5:30 p.m. All season long, Earthlings of all ages can launch their own mission and board the bridge of the U.S.S. Enterprise, or even sit in Captain Kirk's chair and take command. Guests can explore the artistry and imagination of generations of Star Trek creators with original screenplays, storyboards, concept art and a timeline tracing the evolution of Star Trek.
Another Star Trek Day exclusive, all who make the voyage can relive Star Trek movie magic under the Milky Way at the L.A. County Fair's free screening of the latest film, STAR TREK INTO DARKNESS by J.J. Abrams, now available on Blu-ray 3D, and DVD. Showtime is at 8 p.m. on Picnic Hill with limited seating. The first 300 attendees will receive a special Into Darkness gift.
For those unable to attend Star Trek Day, Trekkies can visit the L.A. County Fair any weekend for only $10 when using the promo code "StarTrek" to purchase tickets online.
The L.A. County Fair runs through Sept. 29, closed Mondays and Tuesdays. For information on food, fun and entertainment for the whole family, visit lacountyfair.com, or download the free L.A. County Fair mobile app, to see the complete lineup of acts and attractions. For more fun, join the conversation at facebook.com/lacountyfair and Twitter @lacountyfair.
Add to Digg Bookmark with del.icio.us Add to Newsvine
Media Contact:
Melissa England
310-552-4163
MelissaE@finnpartners.com


Copyright @ Marketwire
Related Keywords:
Display, Camera/Film, Blu-ray/HD DVD, Anim, Broadcast Technology, HDTV, Marketwire, Science, Film, Television, Biology, Entertainment, Family,
---
Source:Marketwire. All Rights Reserved