More Related Stories
Billionaire Investor Mark Cuban Joins Kingonomics Author Rodney Sampson for D.C.-Based and Live Streaming Investment Conference, Crowdfunding Bootcamp & Gala
Sponsored Live-Stream and Conference Discounts Available From Crowdfunding Portal, OfferBoard Give Global Attendees Business Education and Insights and a Chance to Audition for the Hit ABC TV Show Shark Tank
August 19, 2013 --
WASHINGTON, DC -- (Marketwired) -- 08/19/13 -- This week business, entrepreneurship, investor and pop culture leaders will gather in our nation's capital for the Kingonomics Innovation, Entrepreneurship, Investment & Crowdfunding Conference and VIP Gala Reception hosted by crowdfunding expert, Dr. Rodney Sampson, during the 50th Anniversary Celebration of the historic March on Washington for Jobs and Freedom most notably remembered by Dr. Martin Luther King's economic and inspirational speech, "I Have A Dream." The two-day event in D.C. will begin with the Emancipation of Capital Gala Reception on August 22 chaired by Mark Burnett, Executive Producer of The Voice, Survivor, Celebrity Apprentice, The Bible Series and ABC's Hit Show Shark Tank and featuring over 40 honorees and the unveiling of Bob Adelman's "I Have A Dream: A 50th Year Testament To The March That Changed America," with the live streamed Conference, Crowdfunding Bootcamp and official Shark Tank open casting call on August 23, http://mlk50mow.com/kingonomicsdc.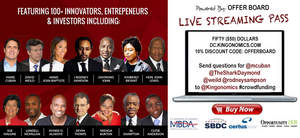 During this 50th Anniversary, leaders within the investment and crowdfunding eco-system will seek to honor Dr. King's final rallying cry for economic dignity, job creation and equal access to capital so all Americans can live out their dreams.
"There is a shift in 'the movement' from civil rights to economic rights," says Kingonomics host, Dr. Rodney Sampson. "Equity Crowdfunding opens new paths to capitalization that were not historically available to underserved and underrepresented communities. President Obama and Congress have taken an historic step by opening new channels of funding for the people that need it most. Now those entrepreneurs and 'would be' investors must educate themselves on the new federal laws so they can fully benefit from those opportunities."
To ensure all Americans can take full advantage of President Obama's JOBS Act signed into law April 2012, crowdfunding platform OfferBoard and Kingonomics are hosting a dedicated crowdfunding bootcamp during the conference on the legal, technical and financial aspects of equity crowdfunding.
"We believe the biggest barriers to success for entrepreneurs looking for funding will be access to education, best practices and tools to navigate these new laws," says OfferBoard CEO Chris Tyrrell. "As such, we are sponsoring 1,000 passes for our nation's Small Business Development Centers, Minority Business Development Agencies and key faith based groups to access the live stream in their local cities. We want entrepreneurs and investors to get the critical information they need to be successful even if they cannot attend this historic event in person," added Tyrrell.
OfferBoard's sponsorship also provides a 10% discount for the general public to access the live stream by entering OFFERBOARD at checkout. The live-stream will occur from 10am - 6pm ET on Friday, August 23rd and will feature top crowdfunding experts and keynote conversations and interactive Q/A with billionaire investor Mark Cuban and Shark Tank investor Daymond John in addition to a number of other high profile business and pop-culture leaders.
A free official casting call for ABC's hit show Shark Tank will occur at the event. Registered VIP attendees will receive a priority pitch position. To sign up or learn more about this historic event visit http://mlk50mow.com/kingonomicsdc.
About Kingonomics
Created by serial entrepreneur, investor, author and consecrated bishop, Rodney Sampson.
The definitive mission of Kingonomics is to facilitate an economic and institutional platform designed to address poverty and the wealth gap via the efficient use of existing and new knowledge and best practices for innovation, entrepreneurship, investment, crowdfunding and sustainability. This is accomplished by creating an efficient ecosystem system of experts, firms, research centers, universities, consultants and advisors that are presented via Kingonomics events, bootcamps and learning programs. The Kingonomics conference is inspired by Dr. Sampson's bestselling book, Kingonomics: Twelve Innovative Currencies For Transforming Your Business & Life, Inspired by Dr. Martin Luther King, Jr.
About OfferBoard
OfferBoard is an equity securities private placement platform for small and emerging companies that leverage the experience, history and reputation of the Australian Small Scale Offerings Board (ASSOB), the world's oldest small securities offering platform, which has raised over $130 million for small businesses since 2005. OfferBoard represents emerging growth businesses raising capital as well as sophisticated investors seeking to diversify their investments by establishing credible positions in the private securities marketplace. OfferBoard connects premium investors directly to premium securities offerings providing each a direct line to growth.
Image Available: http://www2.marketwire.com/mw/frame_mw?attachid=2384645

Copyright @ Marketwire
Related Keywords:
Education, Broadcast, Streaming, Business, Law, Education, Internet Media, Marketwire, Financial, Discount, Television, Business, Other,
---
Source:Marketwire. All Rights Reserved