More Related Stories
Bark the Vote: Nominate Your Dog for Mayor
DOGTV Launches "My Dog for Mayor!" Campaign to Find the Country's Most Politically Powerful Pups
February 25, 2014 --

SAN FRANCISCO, CA -- (Marketwired) -- 02/25/14 -- DOGTV, the No. 1 television network for canines, today announced the launch of "My Dog for Mayor!", a national campaign to nominate and elect 100 dog mayors in 100 cities across the U.S. Whether their paw-litics lean right or left, pups from around the country will campaign for causes near and dear to their hearts, from feeding homeless pets to cracking down on doggy-do fines.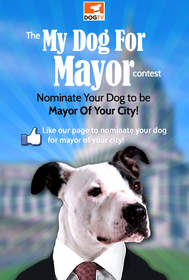 "Every dog should have its day," said Gilad Neumann, CEO of DOGTV. "'My Dog for Mayor!' gives pups the chance to raise their paws for a cause and become a local hero. We hope the local markets -- including the cities' mayors -- will get behind their canine candidates and make this the most anticipated election of 2014."
Between today and March 11, humans can enter their pups through DOGTV's Facebook Page by explaining why their dog should be named mayor of their city. Canine campaign managers are encouraged to promote their pup through as much "pup-aganda" as they care to share with friends and family.
DOGTV will select three canine-didates from each of the 100 U.S. cities, and starting March 13, a mayoral "election" will ensue between the pups. Fans of the DOGTV Facebook page will be able to cast their vote once for the dog mayor of their choice. Voting will end March 20. The new mayors in each of the 100 U.S. cities will be announced Tuesday, March 25.
Aside from joining a politically prestigious group of pets -- like Sonny and Bo Obama -- dog candidates will win paw-some prizes just for being nominated.
All participants: One-month subscription to DOGTV Online and 10 percent off a PetBox subscription
Runners up (up to 100): Three-month subscription to DOGTV Online and one-month subscription to PetBox
Winners (up to 100): Six-month subscription to DOGTV Online and the top ten winners also get a three-month subscription to PetBox
To learn more about DOGTV and "My Dog for Mayor!" click here.
About DOGTV
DOGTV is the first television network for dogs. A trusted source of scientifically developed content for dogs, DOGTV programming is organized into relaxing, stimulating and exposure segments that work together to provide just the right balance for the daily routines of our beloved "stay-at-home" pups. DOGTV's revolutionary content is designed for a dog's visual, auditory and emotional sensibility. For more information, please visit dogtv.com.
Image Available: http://www2.marketwire.com/mw/frame_mw?attachid=2527637

Jenny Russo
(415) 593-1400
Email Contact


Copyright @ Marketwire
Related Keywords:
Broadcast,Programming,Authoring/Programming,Broadcast Technology,Broadcast,USA,Marketwire,Television,Pets,Family,
---
Source:Marketwire. All Rights Reserved